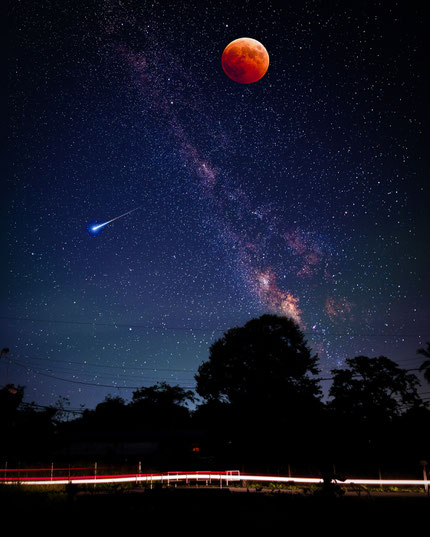 On Monday the 21st 12.16AM GMT or January or 20th depending on your hemisphere (apparently the most depressing day of the year!) we have a full super, blood moon eclipse.
A total lunar eclipse takes place when the Earth comes between the Sun and the Moon and covers the Moon with its shadow. When this happens, the Moon can turn red, earning it the nickname of Blood Moon.
The energy that this moon will give off is massive! This moon is strong so be aware that others around you may be sensitive, children in particular will pick up on this energy. 
Do not be surprised if you are feeling a little bit frazzled at this time, drama will be around you especially for fire and air signs. Some people may be socially inappropriate.
You will find it hard to keep any feelings to yourself, and if you need to get something off your chest, now is the time to do it! But do it in a nice calm way, not in an emotional outburst way! Its time people to BE YOURSELF, if anyone does not like it, than maybe it is time to reconsider your friendships. You need to surround yourself with like minded souls. 
Mars is also square Saturn today, so take the day steady and cautiously it can be a time of frustration and may find yourself coming up against blockages and be easily angered. Don't try to start anything new and grand today, take some time to give yourself some self care. 
If your birthday is around now or the middle of Aug, this energy is giving you the big breakthrough that you need to move forwards with your life. 
Look back to the end of July last year, as we had the eclipse in the opposite sign of  Aquarius. If you are an Aquarius or  Leo, then you may of gone through some big changes. 
At 0 degrees of Leo Its a good time to do a wish list of all the creative things that you want to achieve in your life over the next 6 months. 
Look below to see how this full moon eclipse may affect you! Remember to check you ascendant sign too! Be aware the energy of an eclipse can affect you for 6 months.
LEO 
You will be asking yourself who am I? and may be thinking about your self image and make changes. 
VIRGO
You will be wanting to withdraw at this time and connecting to your deeper self. Take some time for self care.
SCORPIO
There may be some testing times with friends, or a re evaluation of your dreams and goals. It is ok to re focus. 
LIBRA
There may be some work issues that need attending too, or you may be thinking about where you are going professionally, 
SAGITTARIUS
You may be thinking deeply about your life philosophies, and thinking about the travel that you have not done or need to do!
CAPRICORN
You may be thinking about your sex life and finances, if there is some money owed to you, you may see the results over the next 6 months. 
AQUARIUS
Relationship's will be on your mind, intense feelings may emerge and there may be some kind of ending or new beginning. 
PISCES
Health will be on your mind, whether it is starting a new routine or worrying unnecessarily. You may be making changing in your workplace. 
ARIES
Your creativity endeavours will be on your mind and your focus will be your children, maybe one needs some extra attention. 
TAURUS
Your focus will be on the family home or pets. Maybe someone is needing your attention, Make sure you get your space too. 
GEMINI
In your own house of communication, be careful with your words, bite that tongue. There may be a need to be open with a sibling or neighbour.
CANCER
You will be concerned about your finances or security, but its possible may make a major purchase or break free from financial constraint.  Let go of any fear connected to money.